My name is Matthildur Filippusdóttir but my name is Matta or Mathilde. I am 35 years old but I have been working for years for Fjallabak and I have been running this small family business now for a year that my father and mother created more than forty years ago.
At the beginning of the 70's, at the same time that he explored Iceland in all directions and in all seasons, alone or with his first travelers, my father became the pioneer of trekking and ski raids in his adopted country. . Thus, one of the first French agencies to offer in France journeys on foot addressed him from the beginning of his activity and he will remain his provider for twenty years. Outside of the summer season, he worked many times as a guide in the Sahara and Himalayas and traveled to other distant horizons such as Jan Mayen Island or Patagonia.
We realized, organized and participated in several cultural events in France dedicated to Iceland, as well as many magazines and reports: National Geographic, Geo magazine, the World ... France culture, France Inter and several reports for the television and cinema devoted to Iceland.
After having been a local service provider for some "big" French tour operators for almost 25 years since the beginning of the adventure journey in the 70s, and after a few makeshift return, we have come to the conclusion, they, like us, that it was no longer possible to hear us. It's them who have changed, mentality, size and also many times owners, not us. Our goal and our ambition have never been to be listed on the stock market, nor to sell consumer products to thousands of tourists. We remain old-fashioned, but young and passionate as in the early days and, without bragging, remain the best French-speaking connoisseurs of Iceland.
Fjallabak is in close collaboration with specialized tour operators around the world, in Australia, Canada, America, Great Britain, Scandinavia and Japan. In France and Switzerland Fjallabak collaborates with mountain guides and naturalist guides and some specialized tour operators for quality expeditions and treks.
Fjallabak offers its own programs and its individual customers come from all over the world.
Do not hesitate to contact me directly if you have an interesting travel project in Iceland.
welcome
Fjallabak's staff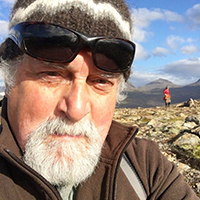 Philippe Patay Petursson, "Filippus", 66, founder of Fjallabak and adopted Icelander. He has been traveling and leading trekkings worldwide : Sahara, Greenland, Scotland, Faroe, Eastern Africa, Nepal… and recently he discovered a new passion for Patagonia and Aubrac… Philippe was…
Read more